Specialty Medicines
Healthcare practitioners are now able to choose medicines that target illnesses or diseases based on a patient's genetic predisposition to an illness.
There is no debate, personalized medicine is revolutionizing healthcare and offering enormous benefits to patients.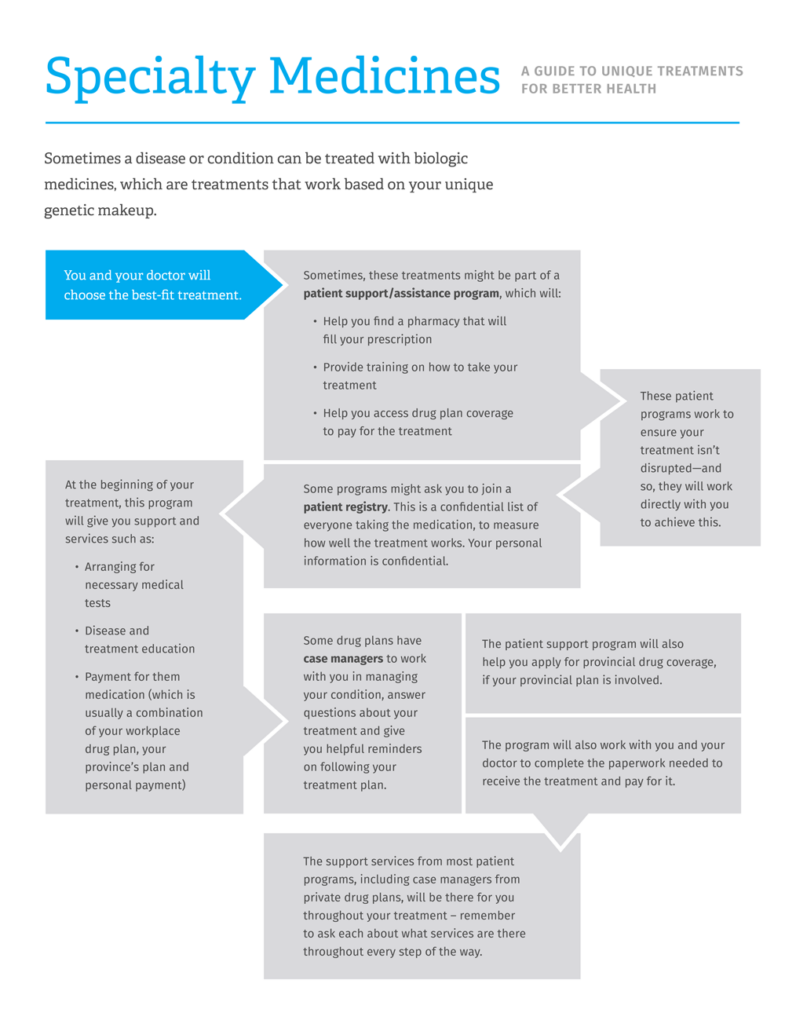 Biologics
Biologics are innovative medicines leading to dramatic improvements in patient care.
While extremely complex, they provide patients with better health outcomes and fewer side effects. By avoiding complications, reducing disabilities and increasing productivity, biologics are also helping to avoid high costs associated with delivering healthcare.
Biologic medicines are products that are manufactured using biological systems. In contrast, most modern pharmaceutical medicines are chemically synthesized molecules produced in chemical reactors. Based on this definition, examples of biologic medicines include:
Vaccines (bacterial and viral)
Products derived from animal and human fluids including blood or its components
Tissues and organs
Recombinant therapeutic proteins (manipulated forms of proteins) including hormones, growth factors and enzymes manufactured using bacterial, yeast or mammalian cells
Allergenics (used for testing allergies)
Somatic cells (stem cells)
Gene therapy
Modern biologic medicines are "engineered" using lab grown cells as machines. The advent of genomics technology has revolutionized the medical field. We can now identify genetic causes or dispositions to disease. We can also manufacture almost any type of DNA, proteins, antibodies or hormones. This technology is the foundation of modern biologic medicines.
Just like all innovative medicines, biologic medicines provide real and substantial tangible and intangible benefits from their use. Biologic medicines, since their inception, have dramatically affected the lives of many, benefiting patients, their caregivers and the healthcare system. A broad range of health, societal and economic benefits are associated with biologic medicines that are used in Canada today.
Real tangible benefits include:
Better health outcomes such as increased survival fewer side effects and improved adherence
Reduced complications of disease progression
Avoided costs elsewhere in the healthcare system
Increased employee productivity
Reduced disability
In addition, biologic medicines are often used in settings where conventional therapies do not adequately meet the needs of patients. Importantly, these medicines improve society's standard of living and health as well as Canada's innovation goals.
Subsequent Entry Biologics
Subsequent Entry Biologics (SEBs) are versions of an already existing biologic medicine.
They are generally made by different manufacturers after a patent of an innovative medicine expires. SEBs are sometimes mistakenly called generic versions of innovative medicines, however due to the complexity of biologic medicines, they cannot be exact copies such as small molecule drugs. As a result, biologic treatments are not interchangeable.
SEBs represent a legal or regulatory construct rather than a class of therapeutics. Health Canada describes SEBs as follows: "A biologic product that would enter the market subsequent to, and similar to, an approved innovator biologic, which would rely in part, on prior information regarding safety and efficacy that is deemed relevant due to the demonstration of similarity to a reference biologic product."
A number of healthcare companies are taking a serious interest in the production of SEBs. As long as patient safety and innovator intellectual property are appropriately protected, SEBs can enter the marketplace as stand-alone products that increase treatment choice for healthcare professionals and patients.
SEBs are demonstrated to be similar to, but cannot be scientifically shown to be pharmaceutically or therapeutically equivalent, or interchangeable with their innovative counterpart. As a result, policies and regulations must achieve the same level of rigor in terms of safety and efficacy as would be applied to the original product. Furthermore, SEBs must not "generic biologics" as they cannot be interchangeable with innovator products.