Research and Development
Canada's innovative pharmaceutical companies invest up to $2 billion every year into research and development to find new ways of treating and curing illnesses and diseases.
We know Canada has some of the best researchers and scientists in the world, and a vibrant life sciences sector. Some of the world's greatest medical discoveries have come from Canadian scientists; insulin is a great example of how Canadian innovations change and save lives.
Our investments support local economies and offer Canadian doctors and hospitals access to innovative new therapies, allowing them to provide better care to Canadians.
At present, there are more than 500 new products in development in Canada, including therapies focused on cancer treatments, infectious diseases and vaccines. These products have the potential to help Canadians and people all over the world live longer and healthier lives.
While we're working hard to continue medical research and development in our country, the reality is Canada only attracts approximately 1 per cent of pharmaceutical research and development investment in the world. Canada has an immense opportunity to attract foreign investment–and more clinical trials–but only if we support our industry and create a regulatory environment on par with the rest of the world.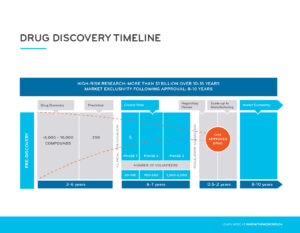 We are taking steps to make Canada the ideal destination for clinical research. The Canadian Clinical Trials Coordination Centre was created to implement an action plan to strengthen and improve clinical trials in Canada and streamline processes for companies and researchers. The Canadian Clinical Trials Asset Map is a unique, robust, searchable web-based database designed to communicate Canada's clinical research strengths to all stakeholders, including clinical trial sponsors.