As a critical step towards bringing new medicines and vaccines safely to market, clinical trials provide Canadians with access to new, potentially life-saving medications and therapies. They also increase the speed at which Canadian healthcare professionals and hospitals develop and adopt healthcare innovations, allowing them to provide better care to patients.
Changes to the Patented Medicine Prices Review Board's (PMPRB) regulations are set to come into force on July 1, 2021. These amended regulations erode the environment for investment in Canada and provide a disincentive for industry to conduct research and development (R&D). This is especially concerning because the innovative pharmaceutical industry has solely or partly sponsored more than two-thirds of the clinical trials initiated in Canada since 2015, and the clinical trials investment environment is also under significant pressure due to the COVID-19 pandemic.
Key insights
The pharmaceutical and vaccines industry leads in clinical trial initiation in Canada
The industry sponsored approximately 65-75% of clinical trials (CTs) initiated in Canada every quarter since 2015. (Chart 1 and Chart 3)
There are 110 planned, ongoing or completed COVID-19 trials in Canada, with 44% being sponsored or co-sponsored by industry.
The industry sponsored over 80% of the clinical trials initiated since 2015 on drugs for rare diseases.
The innovative industry invests approximately $2 billion on research and development in Canada.[i]
It is critical that the PMPRB changes not undermine these vital contributions to Canada's life sciences ecosystem
The number of clinical trials initiated in Canada in 2020 decreased to only 750 (incl. COVID-19 trials). This reflects a decrease of 19% in 2020 compared to the average from 2015-18. (Chart 3).[ii]
The industry is filling research gaps caused by COVID-19
There has been a concerning drop in trials fully completed due to the delay, suspension, or termination of approximately a third of clinical trials in 2020 (Chart 3).
While the number of both publicly- and industry-funded CTs decreased, a larger proportion of public funding was diverted towards COVID-19 CTs thus leaving the industry to maintain non-COVID trials.[iii]
Ongoing clinical trials are for therapies to treat cancer (36%), the central nervous system (14%), Cardiovascular disease (8%) and infectious disease (7%) (Chart 5).
Clinical trials are central to the vitality of provincial life science clusters
There are 3115 ongoing clinical trials in Canada. Most trial sites are located in Ontario and Quebec, with Alberta and British Columbia also having a significant number of sites. (Chart 4)
Detailed data charts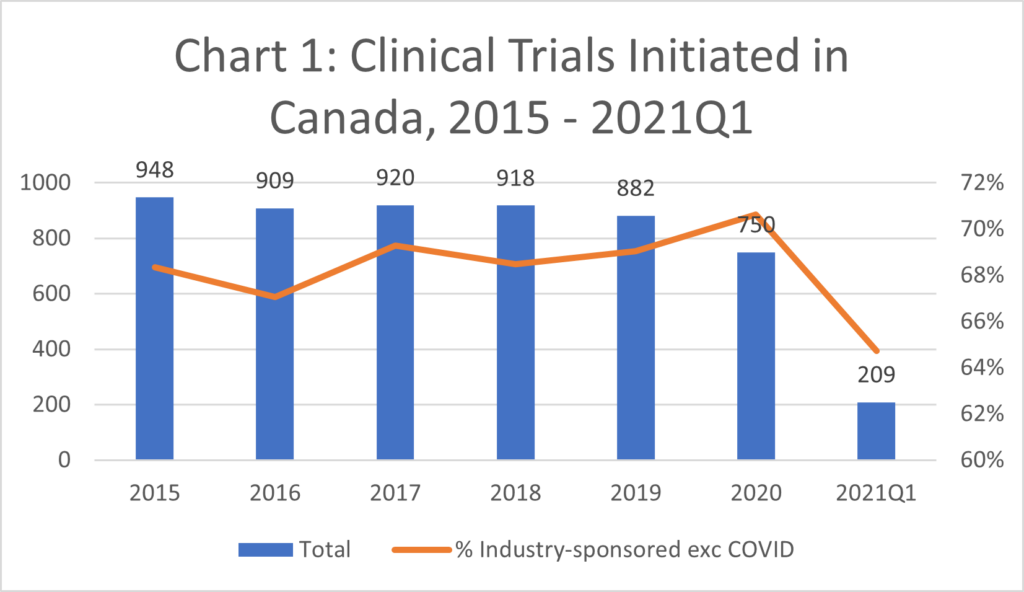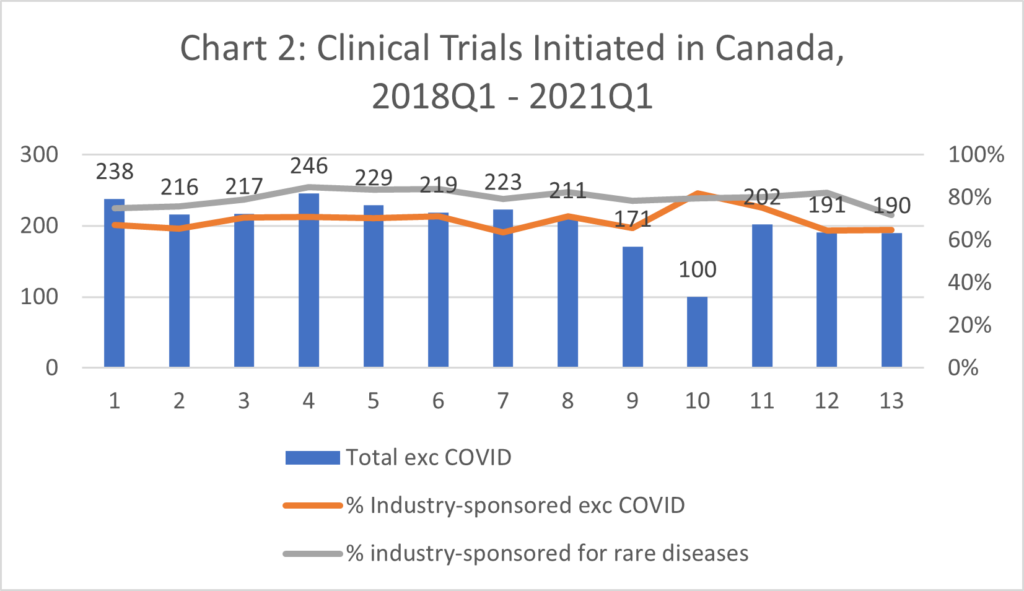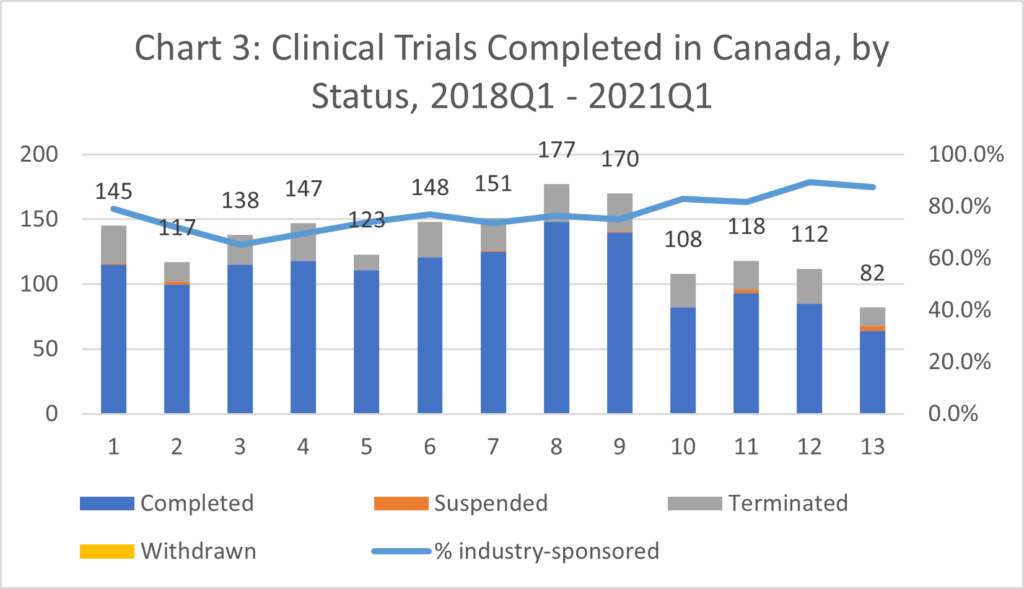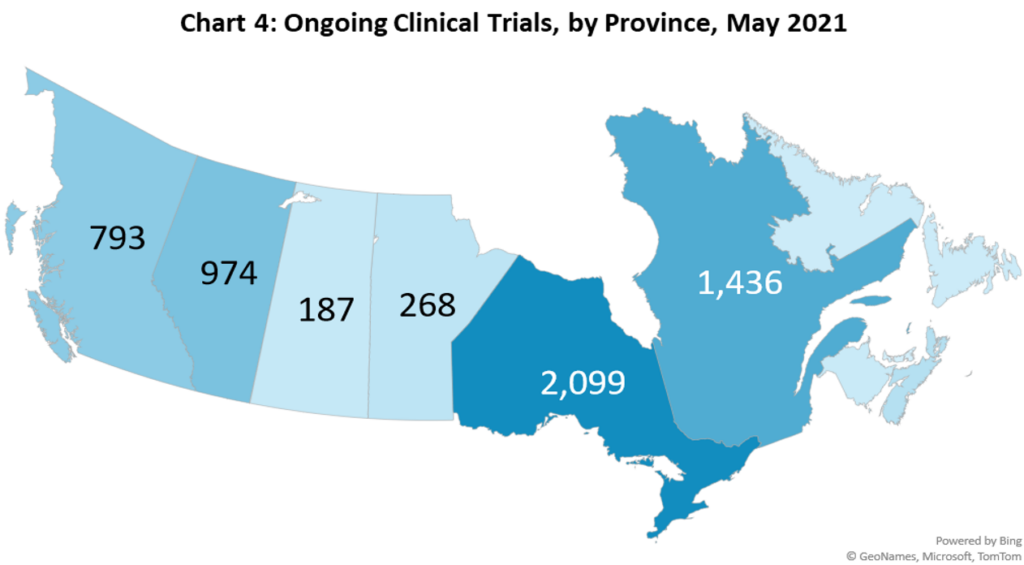 Clinical Trials Help Save Lives
Clinical trials are an integral part of the life sciences industry and contribute to the Canadian economy by creating high-value jobs, attracting leading scientists and medical specialists to our universities and healthcare facilities and provide healthcare professionals with cutting-edge knowledge to increase the standard of care.
PMPRB regulatory changes should not exacerbate Canada's existing critical public health challenges at a time when all parties are working to address the pandemic and rebuild Canada's life sciences capacity.
Fortunately, there is a better path forward. IMC is calling on the federal government to join the innovative pharmaceutical industry in a dialogue on an actionable national strategy that will build a more vibrant life sciences sector, encourage greater investment, and, most importantly, enhance patient access to life-saving and life-improving innovative new medicines.
---
[i] Statistics Canada, 2021. The Canadian Research and Development Pharmaceutical Sector.
[ii] Trials in Canada ranged from 908-948 annually from 2015-18 but decreased to 882 in 2019, and 750 in 2020.
[iii] While responding to the COVID-19 pandemic, the industry also maintained a larger proportion of non-COVID trials, sustaining Canada's R&D effort for non-COVID products.