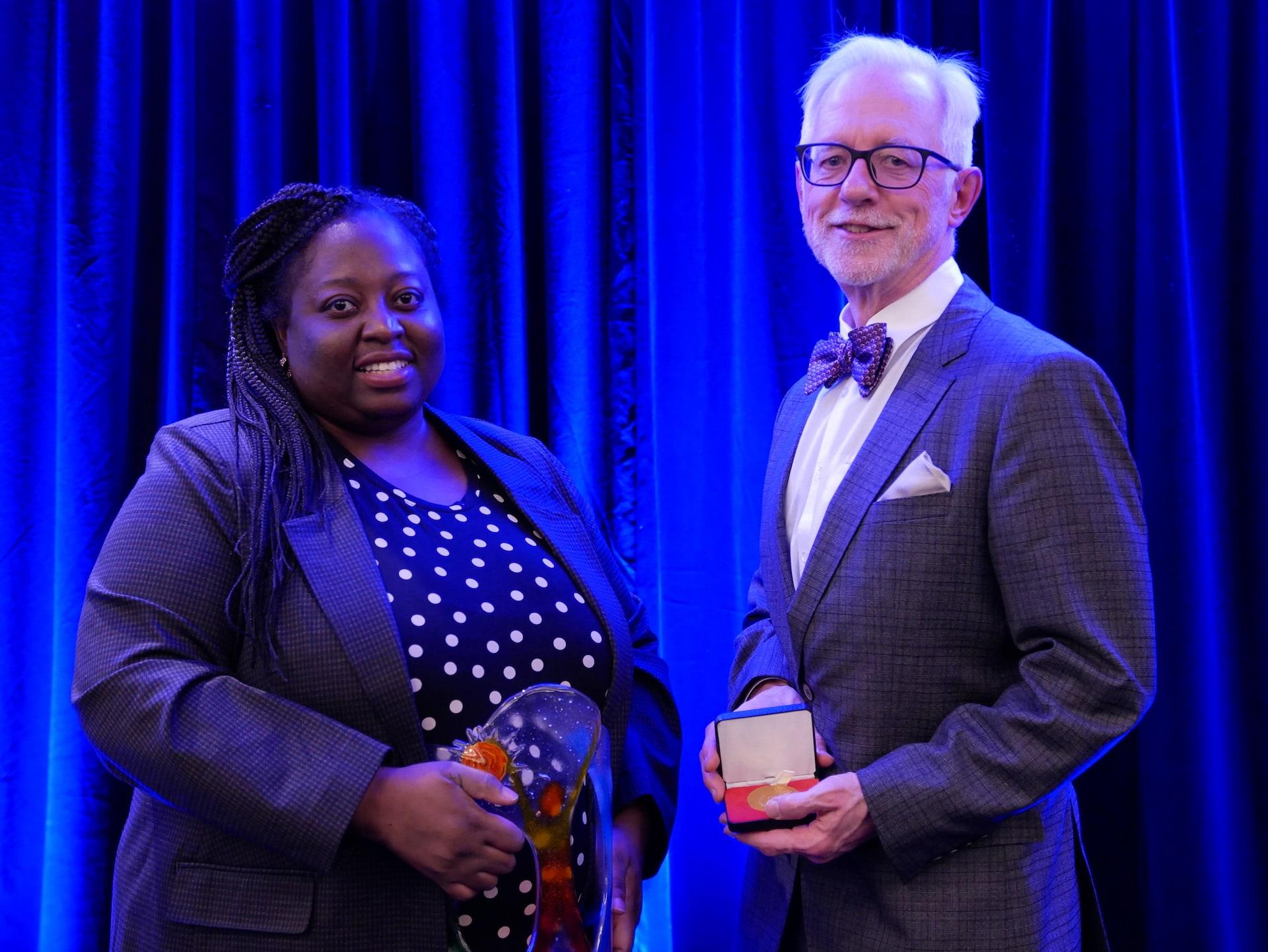 /
Medal of Honour
Recognizing excellence and pivotal contributions to health science for Canada, for the world.
Overview
Since its inception in 1945, the Medal of Honour has been awarded to remarkable individuals whose research or contributions to public policies supportive of research and development in Canada have achieved international recognition. All recipients have made pivotal contributions to the advancement of knowledge in the health sciences and/or the improvement of therapeutics healthcare.
The award recipient receives $20,000 to donate to the research-based, Canadian academic institution of their choice, along with being presented with the prestigious Medal of Honour at the HRF's annual awards event.
Nominations
Nominations have now closed for the 2023 HRF Medal of Honour. Submitted nominations will be considered for up to two award cycles. The nominee's work/research must have been performed in Canada by a Canadian resident.
Any queries regarding the HRF Medal of Honour, please submit via email. Media enquiries can be sent to media@imc-mnc.ca
2023
Dr. Kenneth Rockwood
For his expertise and dedicated research to improve care for older adults and people with dementia.
2022
Dr. Allison McGeer
For her instrumental research and work that has been at the forefront of emerging infectious diseases in Canada and globally.
2021
Dr. Astrid Guttmann
For her innovative research and work that has greatly impacted and influenced child-related healthcare policy nationally and internationally.
2019
Dr. Geoffrey T. Fong
For his pioneering research on tobacco smoking to address this leading preventable cause of death globally.
2018
Dr. David Jenkins
For his role in the creation of the glycemic index and the development of the Portfolio diet in Canada.
2017
Dr. Ian Stiell
For his role in the healthcare research of emergency room care and triaging.
2016
Dr. Robert Young
For his role in the discovery and development of Singulair®.
2015
Dr. Norman Campbell
For his role in the creation of a clinical guideline program for the control of Hypertension in Canada.
2014
Dr. Charles Tator
For his contribution as one of the world's premier academic neurosurgeons and his dedication to the research of brain and spinal cord injuries.
2014
Dr. Robert Young
For his role in the discovery and development of Singulair®.
2013
Dr. Julio Montaner
For his life changing contributions to the field of HIV/AIDS including development of Highly Active Antiretroviral and Treatment as Prevention Therapies.
2013
The Honourable Kelvin K. Ogilvie
For the invention of the "Gene Machine" and Ganciclovir as well as his contribution to public policies supportive of health research in Canada.
2012
Dr. Charles M. Scriver and Mr. Arnold Steinberg
For ensuring the addition of Vitamin D to milk in Quebec and in establishing a Metabolic Food Distribution centre.
2007
The Right Honourable Brian Mulroney, QC
For his contribution to the Canadian health care system.
1999
Dr. Michel Chretien
For his contribution to the research and application of converting enzymes.
1999
Dr. Nabil Sediah
For his pioneering contributions to research on enzymes and the compounds that produce them.
1996
Dr. Bernard Belleau
For the discovery of 3TC (posthumously).
1994
Dr. Henry J.M. Barnett
For his contribution to the field of cerebrovascular disease, specifically stroke treatment and prevention.
1994
Dr. David L. Sackett
For his contributions to the development of rigorous scientific methodology for clinical research.
1992
Dr. Raymond U. Lemieux
For his pioneering research in Carbohydrate chemistry, leading to the development of effective agents.
1989
Dr. Lap-Chee Tsui and Dr. Jack Riordan
For the discovery of the defective gene Causing cystic fibrosis.
1973
Dr. Gustave Gingras
For the excellence of his contributions to the science of Rehabilitation.
1967
Dr. Murray L. Barr
For his original work on the sex chromatin and developmental anomalies in man.
1964
Dr. Ray Farquharson
For the clinical assessment of antibiotics, service as a leading medical educator and Chairman of the Medical Research Council of Canada.
1958
Dr. Wilder Graves Penfield
For his contribution to neurological sciences.
1955
Sir Henry Hallett Dale
Recognition of his many pharmacological contributions to the advancement of medical science.
1952
Dr. T. Clarence Routley
Recognition of his exemplary statesmanship in establishing the World Medical Association.
1950
Dr. Edward C. Kendall
For the discovery of cortisone.
1948
Dr. Charles H. Best
For the co-discovery of insulin.
1945
Sir Alexander Fleming
For the discovery of penicillin.